Influence peddling in Washington is about as old as the city itself.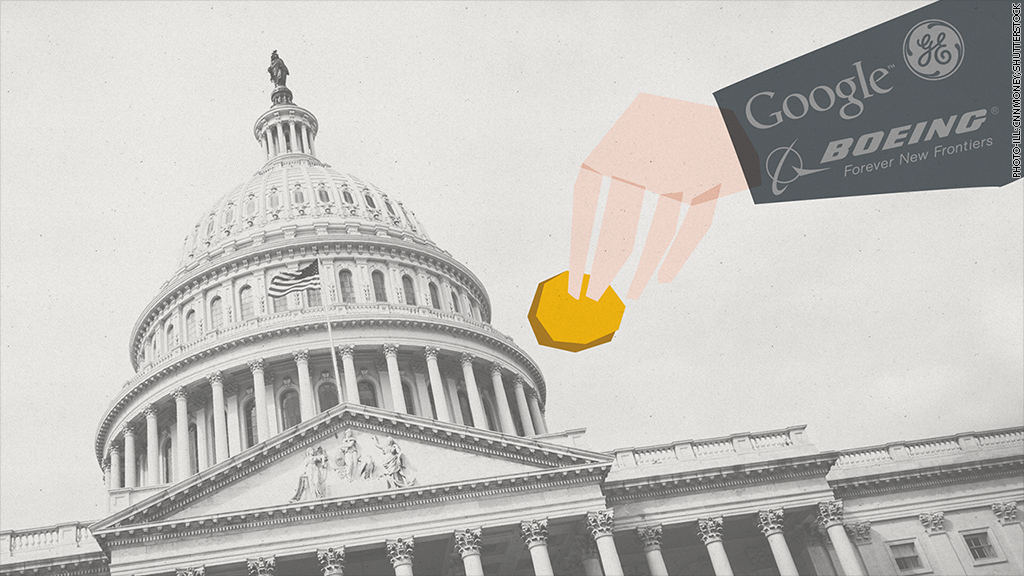 Financial and political pundits like to talk about how Corporate America's money controls politics, yet few people can tell you which companies are the Beltway's biggest benefactors and why they give so much.
The long game: For most businesses, it's all about the long game, according to Tim LaPira, a political science professor at James Madison University who studies lobbying and interest group politics.
"If you invest in the long term, you have the lobbyists on the ground who are in the know, building relationships with policymakers, agency representatives," he said. "When something comes up that effects their business planning, they're in a good position to act."
Related: Elon Musk woos Congress with space ship
What's interesting is that spending more on lobbying doesn't always boost stock performance. It can take awhile for big decisions to happen in Washington, so dollars spent one year may not show any impact until much further down the road.
A CNNMoney analysis of the top 10 publicly traded corporate spenders shows that only four had stock returns that beat the S&P 500 since President Obama took office.
The full list: Here are the publicly traded companies that have done the most direct lobbying since 2009, plus a bonus:
1. General Electric (GE): $134 million
2. AT&T: (T, Tech30) $91.2 million
3. Boeing Co (BA): $90.3 million
4. Northrop Grumman (NOC): $87.9 million
5. Comcast Corp (CMCSA): $86.4 million
6. Verizon Communications: (VZ, Tech30) $86.4 million
7. FedExCorp (FDX): $85.7 million
8. Exxon Mobil (XOM): $85 million
9. Lockheed Martin (LMT): $78.8 million
10. Pfizer (PFE): $77.8 million